Why I Don't Really Draw TGTF
09/03/2023
---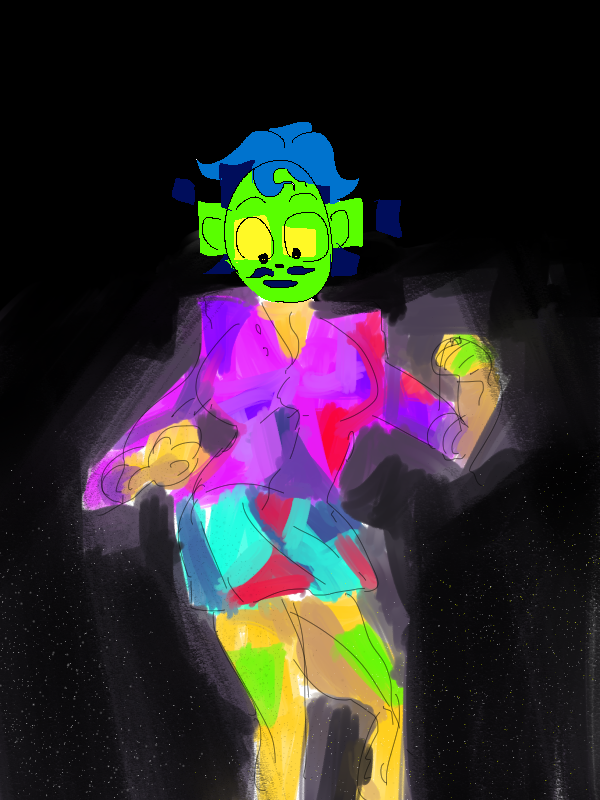 TGTF, or TG, is the kink of gender TF. It's done in real life, but also very frequently in art. It's probably one of the most popular types of TF in the online kink art community, and I've noticed in the few times that I've drawn a bit of TGTF (most notably a couple of toon TF commission pieces, which I may or may not put on this site eventually) they usually get a substantially more attention than my other work. People really like this shit.

I don't really draw it very often. Not because I don't

like it

occasionally. But more because of a certain association that's hard to shake from it.
To put it bluntly, very often TGTF is male gazey as fuck.

In most fetish art, the 'perspective' character tends to be the sub, though this isn't always the case. The viewer is usually intended to sympathise with them, imagine being in their position, fantasise about the scenario. That's perfectly fine! (though, sometimes I'd like to fantasise about dominating a cute sub! Writing this, I realise I'd certainly like to draw more art from the perspective of the domme, because that tends to be the way I tilt my presentation in the real world.)
In a lot of TGTF art, the viewer is put in the place of the man. You'll often have a very boring looking dude who gets turned into someone with a character design. A lot of the appeal is the

shame

and

embarrassment

of the TF and what comes after. It's a fantasy of disempowerment, like bondage, or hypnosis, or inflation.

This can be done well, but it's fairly occasional. What I don't vibe with is the implicit assumption that comes with a lot of these pieces that

to be a woman is humiliating.

A lot of TG doesn't see womanhood as something empowering, but as something like being turned into a relief station. Turning into a sex object.

Don't get me wrong, getting turned into a sex object is hot. I DO enjoy towing the line a bit with exploration of sexism and the kink of it in my work-- I draw a decent amount of 'bimbofication' art. (Another sort of TF in which a subject, usually a woman, gets kind of dumb and sexy.) That kink can also be done in an extremely misogynist way, especially as revenge porn. What I don't like is the way that this stuff when men do it is so...

Skeevy

.
Every time I've posted this stuff, I get a lot of weird little freaks coming out of the woodwork and I can tell that what was for me an incredibly powerful experience that made me very happy with myself is for them something deeply humiliating. Lesser. And sure, probably about 50% of men who are into TG are probably trans, but it still icks me out somewhat. Even though I might get some very well paying commissions out of it... Drawing TG comics like this for people just makes me feel kind of sick to my stomach. I actually cancelled a commission for a client in part because of this recently. (The other part was that the arse restreamed the artstream i was drawing on and made fun of my accent in his little discord server.)

I know some TG artists have been tilting the other way on this lately. I know that popular TG artists Zi on NotZackForWork and BlackShirtBoy have been really embracing the angle of TG that's embarrassing because you get a silly form, or because it happens by surprise, or TG that's explicitly something that the subject is excited about or interested in. Zi in particular loves to draw artwork and comics where someone who's been TGTF'd just has a lovely time afterwards, hanging around or going out on the town et cetera. (I was not surprised in the LEAST when Zi came out as genderqueer. All power to you pal.

So not all TG art is bad, but I probably won't draw too much, and if I do, it'll be to my own tastes. I've drawn a bit of revenge porn about it from a place of spite, which I might repackage as a ludicrously expensive zine as part of an art project, but that shit's more about forcing obnoxious tories and terfs to actually experience being trans... And honestly, it comes from a bit of a place of spite, rather than empowerment.
Anyway, that's my thoughts on the subject. They 're quite influenced by playing Immortality lately, a game which does some interesting stuff with the male gaze, the way in which women are framed in art, and uses TG themes in a couple places. Also, by a long-running roleplay with my partner, where my character Ella got bimbified as part of a psychedelic dreamscape adventure on her weird brainworms about 'smartness' and having to understand everything.

Basically, Just be normal about it, okay?


Things to read or watch!